Main content starts here, tab to start navigating
Modern Restaurant and Lounge Seasonal Cocktail List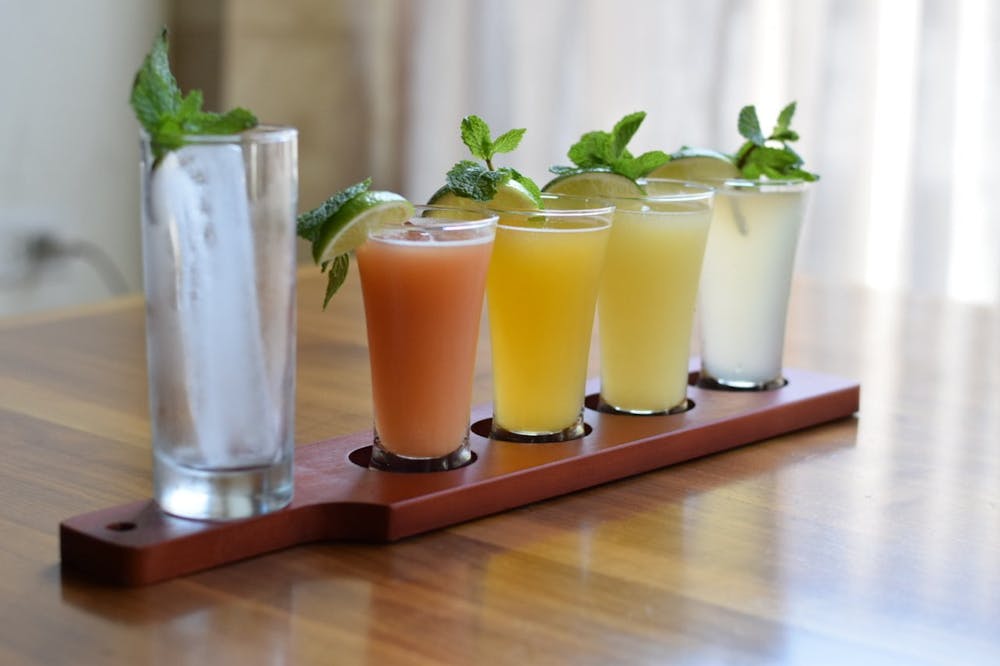 MODERN CLASSICS $14
SELECT SPRITZ
Select Aperitif Pilla, sparkling wine, sparkling water
LEMON BASIL
Muddled Basil, Shaken with Chopin Vodka & lemon.
MARGARITA
Camarena Silver Tequila shaken with orange curacao, lime, and agave.
MOJITO
Muddled mint, shaken with Diplomatico Silver, lime. Topped with sparkling water.
ESPRESSO MARTINI
Ketel one vodka shaken with espresso, white & dark cacao, amaretto, coffee liqueur.
Bailey's or Baileys Light add on $1
Seasonal flavors available for Mojitos, Margaritas, Moscow Mules ($1)
SIGNATURE SANGRIAS $14
WHITE SANGRIA
White wine, Rumhaven Coconut Rum, pineapple & peach liqueur. Topped with lemon- lime soda
RED SANGRIA
Red wine, citrus rum, black raspberry, and peach liqueur. Topped with Lemon-Lime Soda.
SEASONAL COCKTAILS $14
LOVE POTION #310
Diplomatico Silver Rum shaken with banana, strawberry, lime.
MODERN SPRITZ
Ketel One Rose & Grapefruit Botanicals shaken Select Aperitif Pilla, watermelon, lime. Topped with Sparkling water & Californian bubbles.
GINGER SMASH (SPRING 2021)
Fresh ginger root shaken with Vida Mezcal or Camarena Silver Tequila, papaya, apple, lime.
HEY MAMBO
Beefeater Pink shaken with Fords Gin, strawberry puree, vanilla beam, lemon. Topped with Californian bubbles.
DOCTOR STRANGE
Muddled brandied cherries, orange, lemon, brown sugar, Lemon oil, Krupnik herbal honey bitters . Stirred with Diplomatico Reserva Rum, blue matcha, almond milk.
LOST IN PARADISE
Camarena Silver Tequila shaken with coconut, caramelized pineapple, blue stuff, lime.
PELIGROSO
Edible gold powder shaken with Ro & Co Blended Irish Whisky, mango, lime, pasteurized egg whites.
NICKY MEANS BUSINESS
Spirit of choice shaken with aloe vera, cucumber, elderflower, jalapeno, lime.